Has your business plateaued after years of success? Can't seem to find or retain capable staff ? Or are you constantly caught up with running the business yourself, despite having a team of staff?
Whether you are a $1 million or $10 million or more company, we help you overcome these & other limitations, and develop in-house capabilities – with Spring Singapore Grants & Subsidies including Capability Development Grant (CDG), Innovative & Capability Voucher (ICV) or Work-pro.
Our Satisfied SMEs clients that had engaged us using SPRING grants/subsidies comes from a broad spectrum  including  Agency Representatives / Distributors for Asia, Commercial & Industrial Constructions, General Trading, Industrial Automation System manufacturer,  >30+years iconic lifestyle entertainment business, etc.
To weed out dubious claims or sub-par projects, SPRING Singapore require all projects seeking subsidies or grants to be carried out by SPRING's recognized Management Consultant as of 1 Jan 2017.
For SPRING's Capability Development Grant (CDG) program, eligible Singapore SMEs (less than $100 million turnover) can have up to 70% of their project fees subsidized in 10 areas.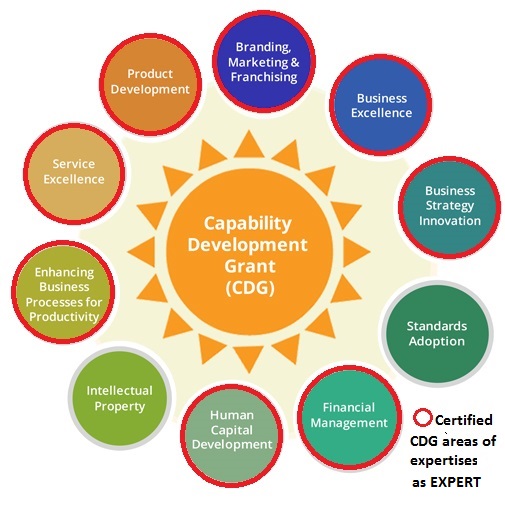 We are your one-stop business advisory partner and able to handle 8 out of 10 of the above CDG areas in-house, which covers most of what SMEs need for exponential growth. We work with CDG's certified Patent Attorneys for Intellectual Property and certified CDG consultant for Standards Adoption (ISO/QSM) for projects involving these areas. We welcome partners who are practitioners & domain experts in any of the above 10 domains, certified or waiting to be certified for coffee to explore.
Drop us a note at info@vcBizAdvice.com or call us at +65 6348-8636 for a no obligation chat over the phone or at your office!